Science Enrichment After School Programs Online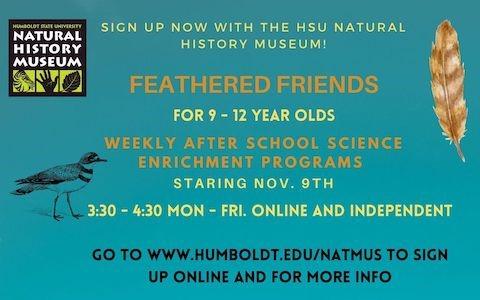 The Cal Poly Humboldt Natural History Museum launches our new Science Enrichment After School Programs Online with three weeks of programs all about birds for 9-12 year olds. 
Come fly with our Feathered Friends! 
Do you want to learn more about birds?
The NHM is offering a Birds Enrichment Program after school Mon - Fri. starting November 9th from 3:30 p.m. to 4:30 p.m.
These science enrichment programs will have a variety of fun activities for ages 9 - 12 years old.
Some activities will be online together (MWF) over Zoom and others can be done independently.
Sign up for one week, or all three.  Anyone who enrolls in all 3 weeks will enter to win a free pair of binoculars courtesy of the Redwood Region Audubon Society. 
Week 1:  Nov 9 - 13 - Birds of a Feather - 
Learn how to identify 
birds
 using shape, size, color, and habitats including falcons, owls, and egrets. Observe your 
bird
 neighbors. Have fun acting like a 
bird
 and feeding like a 
bird
. Dissect an owl pellet, learn basic 
bird
 anatomy, play 
bird
 bingo, crack an egg, and much more!
Week 2:  Nov 16-20 - Bird Marathons - 
Find out about 
birds
 that travel. How far do some 
birds
 fly to get to Humboldt Bay and elsewhere to overwinter? What do migrating 
birds
 eat and do they really use the stars to navigate? Highlight a 
bird
 champion, fly a 
bird
 glider, and make a magnetic field.
Week 3:  Nov 23-27 - Bird Conservation - 
Help our feathered friends. What sorts of things do 
birds
 need to survive? Learn what 
birds
 like to eat, where they hide, and how to make a bird-friendly
 yard. Have fun creating your own 
bird
, sharing stories and videos, and learning about some of these unique and rare dinosaur relatives!
Fees
NHM Members -- $20 a week or $55 for all three weeks
non-NHM Members -- $25 a week or $70 for all three weeks
Become a member: find out how 
here
.
Register Now to Save your Spot
Details
Each week will include the following:
Three online live interactive sessions through Zoom on Monday, Wednesday, and, Friday 3:30-4:30 pm.  The Zoom link will be shared once registration is received.  Each online session will be hosted by museum staff (and credentialed teacher) along with Cal Poly Humboldt Natural History Museum interns.  Students will be actively engaged in activities, games, and sharing their learning about birds. 
Activities to do independently between each live online session. 
A packet of materials to use in the program.  We will arrange to get the packet to you by the beginning of the week. 
A certificate of completion and feathery reward.