Feathers and Fur Online After School Enrichment Program
 The Cal Poly Humboldt Natural History Museum offers our newest Science Enrichment After School Program Online with 4 weeks of programs all about feathers and fur for 7-11 year old students.  If you want to learn more about birds and mammals - join us!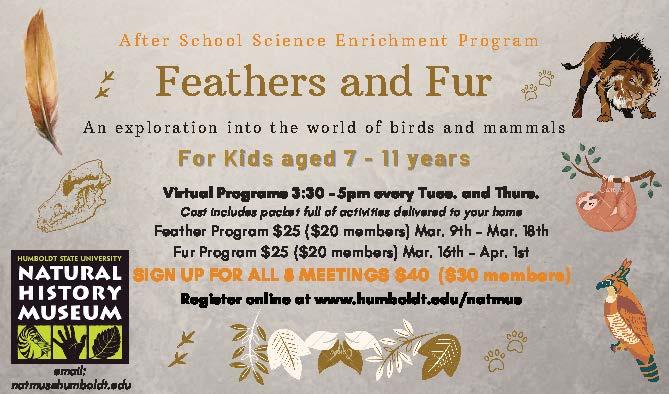 Feathers and Fur Oh My! 
The NHM is offering two after school science enrichment programs back to back - Feathers and Fur. Our Feathers program is about our Feathered Friends and our Fur program covers a wide variety of materials about mammals - not all of them furry. These two programs will have a variety of fun activities for ages 7-11 years old. Each program includes a packet of materials to learn from and activities to do at home to engage in and enhance the experience.
Feathers Enrichment Program is 4 virtual online meetings with many other activities done independently at home. We will meet on Zoom Tues. and Thurs. 3:30-5pm March 9 -18th
Fur Enrichment Program is 4 virtual online meetings with many additional activities done independently at home.  We will meet on Zoom Tues. and Thurs. 3:30-5pm March 23 - April 1st
Sign up for Feathers, Fur or both!   
BIRDS (Feathers) Program  (CLASS FULL)

Mar. 8-12 Wk 1: Feathered Friends-- Introduction to birds including tips for bird identification, playing bird bingo, figuring out bird related puzzles, and dissecting owl pellets. Learn about bird behavior, birds of prey, and the wonderful world of birds.

Mar. 15-19  Wk 2: Birds on the Move--Learn how and why birds migrate, make a magnetic field, fly like a bird, and eat like a bird. Continue with fun games, puzzles, and Kahoots quizzes along with finding out about the most heroic birds and how humans can help conserve them

MAMMALS (Fur) Program (CLASS FULL)

Mar. 22-26 Wk 3: Mystery Mammals -- What are mammals? How far back do they go in the fossil record? Fill out a timeline, classify mammals, learn about some of the common and rare local mammals, and how to identify mammals by looking at their skulls, teeth, tracks, and other features.

Mar. 29-Apr 2 Wk 4: The Big, Bold, and Bazaar -- Brace yourself for things you never knew about our fellow mammals. Who is the biggest, the boldest, the fastest, and the smartest? View these amazing creatures, play Kahoots quizzes and other games along with designing your own futurist mammal.  
Fees
NHM Members -- $20 per program or  $30 for both
non-NHM Members -- $25 per program or $40 for both
Become a member: find out how here.
Register Now to Save your Spot!
Click here to go to our online registration
Details
Each program will include the following: 
Four online live interactive sessions through Zoom on Tuesdays and Thursdays 3:30-5:00 pm.  The Zoom link will be shared once registration is received.  Each online session will be hosted by museum staff (and credentialed teacher) along with Cal Poly Humboldt Natural History Museum interns.  Students will be actively engaged in activities, games, and sharing their knowledge during both virtual programs. Many other worksheets, games, and hands-on activities will be done at home to support each program.
A packet of materials for each program delivered to your home.  
A certificate of completion and rewards for participating.